2005: Fall fashion Trends
By Jennifer Kwan
Stunning Silhouette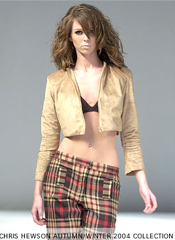 This fall look for pencil skirts or anything that is designed in an A-line because fashion this fall is all about balancing proportions, says fashion neophyte Chris Hewson. "These two are the most important shapes for this season," says Hewson, who is based in Toronto. "Shape is very playful - you can do a pencil or cigarette pant and full blouse; you could do something full on the bottom with something cropped at the top. Play with silhouettes, play with shape." The colour scheme for Hewson's fall collection is a mishmash of rich chocolate browns and cranberry red, some rich emerald gold and cream. Described by runway watchers as a fashion wunderkind, the 19-year-old self-trained designer describes his collection as Lady Barbara Black meets Christina Aguilera. "You'll find for fall there's an influence from numerous eras," says Hewson. "If you're looking from a strictly silhouette point of view, you'll see a lot of '30s."
Pretty Picks
Pretty in pink? Maybe. But at the very least aim to feel pretty no matter the design, cut or colour. This fall, Canadian fashion stronghold David Dixon designs for the lady in all of us. His collection consists of natural materials such as silk, wool and angora. "It was inspired by Breakfast at Tiffany's," Dixon says of his collection. "I saw the movie ages ago and, for me, Audrey Hepburn has always been a source of inspiration - an icon." The collection is primarily black and white, ivory with accents of robin's egg blue and metallic sulphur. The collection was also designed to convey the concept of "approachable luxury," he adds. "I think we're heading more toward a lady-like way of dressing - a little more glamour, a little more dressed up, a bit more put together."
Retro Rock
Don't look too much further than Janet T. Planet for a Retro extravaganza with her fall Rocolat collection , which was inspired by 12 female rock stars such as Emm Gryner, Madonna and Annie Lennox to name a few. "It's a dedication to them," says Planet, who leaves Toronto for a short stint in Los Angeles, Calif. in the summer of 2004. "They're completely inspiring to my work." Rocolat incorporates a variety of wools, tweeds and silks, with a twinge of retro avante-garde and Planet's signature embroidery. While black is always a must-have basic, don't expect to see much of it from Planet. Her favourite staples are chocolate brown, midnight navy and plum, which is what you'll see in her Rocolat fall collection. "People are still drawing on retro influences but making them more futuristic, which makes it more elegant," says Planet. "This collection was more about me doing what I wanted to do. It was a showcase of what I love doing." Coincidence or not, it suits this fall just fine!
Cool Fall Air
Winter can be cold so why not brave the weather in style. "When you get an extremely cold winter, people start thinking of fur," says Montreal-based Hilary Radley, who notes fur is a hit this fall more than ever before, and it's a great way to add a little glamour in everyone's life. Known for her luxurious outerwear, Radley suggests reaping the benefits of a practical yet stylish down jacket, or slim-fitting trench coat. "I think you must have right trench," she says. "It's one of those pieces that has to be in everyone's closet." Her fall outerwear collection is a mix of cashmeres, on its own or blended with wool, downs and rain gear. This fall, Radley also launched her first womenswear line this fall, which she describes as a "sophisticated collection" that marries "the feminine sexy look with wearability."
Fashionable Must-Haves
Before hitting the shops, Canadian designers suggest several must-have items: they include a sturdy co-ordinate set - pant, skirt and top, but definitely a good skirt - inspired by the '50s - which can be dressed up or down. Pencil skirts that are just below the knee are a must-have, and look great with a single-button suit jackets. Tweed jackets and trench coats are age-old staples, as are fur-trimmed accents whether on a coat collar, mittens or hand-warming muff. As for other accents, embellish all outfits with bows, feathers or real flowers!