2004: Fall fashion Trends
By Jennifer Kwan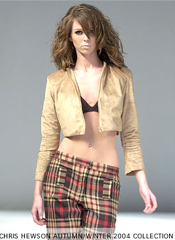 This fall consider classic pieces that are embellished with intricate detailing, or bolder designs such as large florals, bold tweed prints or tartan. Choose silhouettes that fit comfortably on the body but don't look dowdy, and co-ordinate from colour schemes that reflect rich undertones and splashes of bright or metallic hues. But before slipping into your next outfit, read about what's getting the official nod from Canadian fashion designers.
Fashion Preface
Trend conscious? Then consider dressing from the past. "I think that there is no real trend as more and more, you see every kind of shape for every kind of man and woman," says Montreal-based Denis Gagnon, in an email interview. "Lots of '50s, '30s designs. Eighties tend to fade away now although some designers still like to play with it." As this year's Fashion Export Awards Designer of the Year and Womenswear guru, Gagnon's fall collection is sleek and athletic. It's designed with dark and earthy tones and some bold colours such as yellow, and it combines leather with very basic fabrics such as cotton or wool. "I have tried to build on the previous collection, coming back with a lot of tone on tone details, very simple and very intricate in the same time," he says.
Colour Your Closet
Elevate your basic colours such as black, chocolate brown and charcoal with bold accent colours such as pink or salmon, crimson red, luminous teal, or metallic gold and sulphur. You don't have to look much further than Canadian industry darling Arthur Mendonca to be convinced these types of combos work. Mendonca's fall women's collection consists of black and white, teal, burgundy and warm metallic neutrals. "I used some champagne with teal," says Toronto-based Mendonca of the various pairings. "I liked the mixture of the greens and blues together as well. It's a very crisp, cool, colour scheme." His fall womenswear collection was designed with wools and natural fabrics such as silk, and it was designed with the stylish professional in mind. "The main theme was taking concepts of men's clothes and making them for women," he says, noting this collection is more "mature" than previous seasons and caters to conservative but sexy women.
Fetching Fabrics
For style and comfort, look for wearable wool and cashmere blends, quality tweed and billowy blouses, natural or blends, with novel detailing. This fall can be about mixing and matching, says fashion favourite Paul Hardy from Calgary. "It focuses on the layering of textures, mixing daytime and evening fabrics in a more modern way then they've been traditionally used," he says of his collection. "The line appeals to the state of mind of a customer, rather than their physiological aspects. So someone from in their late 20s to 60s could wear it." The basis of the collection is that it has an "intellectual purity" to it, and each piece is designed so it can stand alone, he adds. Hardy's fall womenswear line is inspired by the biblical story of Rahab, the popularized 'harlot' of Jericho who hid spies in her home in exchange for protection from Israelites during their sacking of the city. The story is reflected by Hardy's use of torn wool, versatility of novel fabrics that mimics chain mail as well as his use of black, charcoal and red.
It's All in the Details
Beyond cool colour schemes and fabrics, look for items that are "simplified yet complex," says Toronto-based designer Shelli Oh for Harebell. Translation: simple cuts with intricate detailing to give any outfit an edge. Oh's fall collection is a product of delving into her darker side and the result is a sexier, more glamorous line than she's previously shown but still signature Oh - pretty, ethereal and whimsical. "There are a lot of leather details, a lot of wool and "meshy details," she says of her collection. "There are some comfort pieces and some art deco pieces. There's a lot of lace! I can't seem to escape from lace." As for her menswear line, which she describes as "art house, geek and rock n' roll," Oh has designed simple pieces for creative professionals. Consider, for example, shirts that are slightly tapered at the waist though broader in shoulder, and very rock star! Keep it clean and cool.